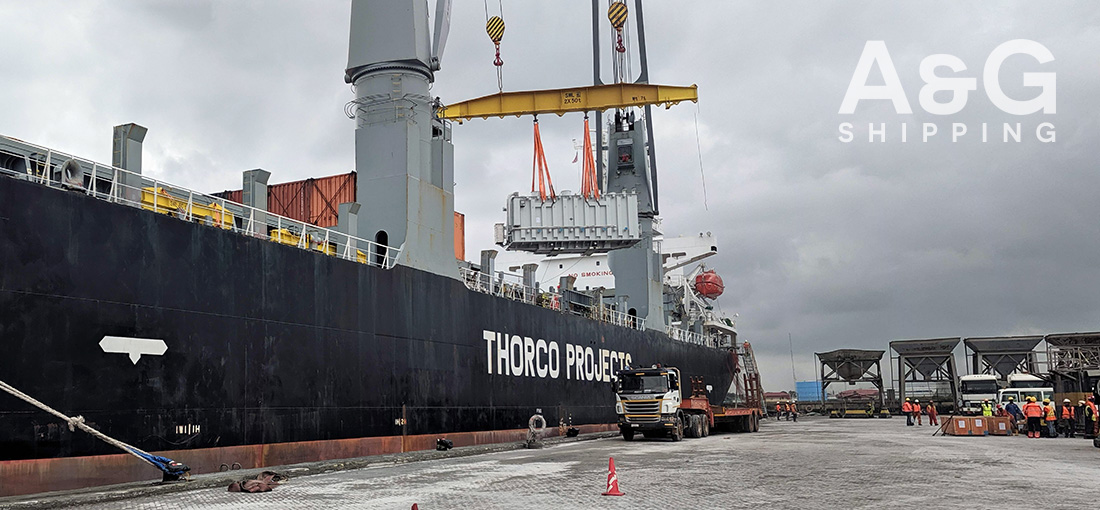 24 Jul

*NEW PARTNERSHIP* WITH FRONTIER SERVICE GROUP (SHANGHAI)

A&G Shipping continues to play an important part in supporting the large ECOWAS funded electrical infrastructure project across West Africa, with the power sub station equipment manufactured and coming from China. July has been an incredible busy month for A&G Shipping in Liberia. Almost 2,000 tons of cargo safely moved to the sub station sites in Liberia for Chinese freight forwarder

Frontier Service Group

.

General Cargo vessel Thorco Liva berthed in Freeport, Monrovia, on the 5th of July carrying 1,300 tons of general cargo, including 12x transformers and reactors weighing up to 80 tons each. Discharge was over three days and had to be carefully managed as cargo was packed in no particular order and was going to four different destination sites. In order to minimise port handling charges for the client a continuous stream of trucks was arranged so that cargo could be discharged directly. Port operations are 24hr/day however customs is not so, in order not to create a backlog, A&G Shipping agreed with customs to also allow movement out of the port throughout the nights until discharge was complete.

For the heavy units, as we only had one heavy lift team operating at destination sites we inevitably had to store some heavy units in the port terminal yard until the offloading team had mobilised to the next site. In an operation like this there are always judgement calls to be made in order to streamline the operation. Heavy units loaded on lowbeds too far in advance can incur truck detention for the client and also it is not good for trailers to carry near capacity weight for long periods. However, we also had to take into account the high handling and storage charges for these items in the port. Working with an experienced team is vital in these situations.

All cargo was cleared without delay, discharged and safely delivered and offloaded to the correct site within the timeframe allocated. A big well done to all parties and we look forward to a great future partnership and Liberia looks forward to the fair distribution of power it deserves.

Some photos from the project below.